Voting Rights Celebration in Baltimore!
1870 Parade Re-Enactment and
Women's Suffrage March
for Information
(Postponed) Upcoming Events
Schedule changes will be posted when made available.
Suffragists Identified in The DuBois Circle:

Braxton, Beatrice (Mrs.) Edgar
Cardozo, Fannie (Mrs.) Frank
Chissell, Augusta (Mrs.) Dr. Robert
Clifford, Carrie (Mrs.) William H.
Cook, Caroline (Miss)
Davis, Erma (Mrs.) Carrington L.
Fernandis, Sarah C. (Mrs.) John A.
Frey, Jane, (Mrs.) George
Gaines, Minnie L. (Mrs.) Rev. A. L.
Hawkins, Margaret (Mrs.) Prof. Mason A.
Hurst, Bertha (Mrs.) John K.
Irvin, Helen (Mrs.)
Jackson, Sarah (Miss)
Jennifer, Eva (Miss)
Reid, Edna (Miss)
Slowe, Lucy Diggs (Miss)
Smith, Annie (Miss)
Stepteau, Estelle (Mrs.)
Waller, Jane (Mrs.) Rev. Garnett R.
Young, Estelle (Mrs.) Dr. Howard E.

Postponed:
Celebrate the impact of the Black Suffragists Movement at the
4th Annual Afro High Tea.
These courageous women paved the way to securing the right to vote. Your participation benefits the
Black Girls Vote Project.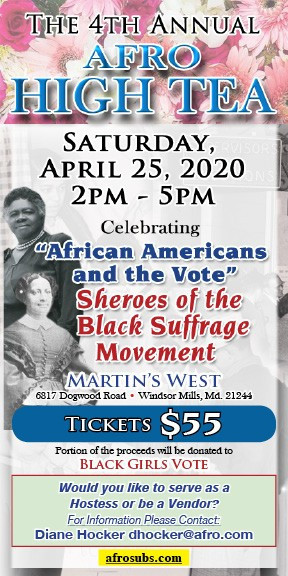 A Message from The Afro-American Newspaper
On the occasion of the 100th anniversary of the 19th Amendment, we reached back into the #AFRO Archives to unearth stories of Black women suffragists from Maryland & DC who fought tirelessly for the vote. This special edition publication connects their activism with that of their 21st century counterparts through newly commissioned and archival texts. We have decided to produce a very limited-edition physical publication in addition to the PDF download. The PDF is available for download today for $10, and the limited edition book is available for pre-order for $50.
Beverly Carter, Archivist for The DuBois Circle, serves on the Board for The Afro and Afro Charities. She assisted in the assembly of a list of Black suffragists, research in their lives, and their contributions to early voting rights. This research includes early members of The DuBois Circle.